NVELOPE supports Bradford College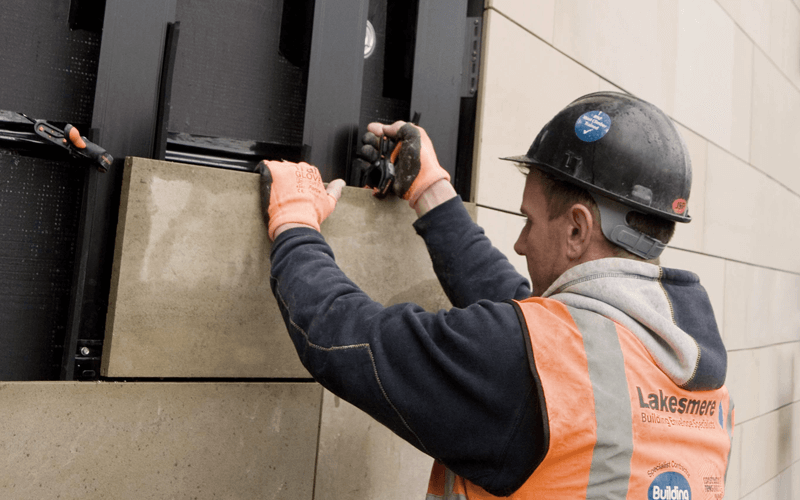 Project: Bradford College
Location: Bradford
Building envelope contractor: Lakesmere
Product: NV1
A recently built college in Bradford has benefited from vertical cladding support systems by NVELOPE, the rainscreen cladding specialist. The new six storey learning centre has been fitted with NVELOPE's NV1 system to support 3800m2 of sandstone cladding.
In 2011, the Government provided the city of Bradford with a budget of £17 million to kick-start the regeneration of the area. Bradford College is currently in the process of developing its multi-million pound campus, situated in the centre of the city. The two year project to construct the technology-rich learning centre is on track to be completed by September 2014. Lakesmere, building envelope specialists, chose NVELOPE's NV1 system due to its easy installation process.
John Dickson, Construction Manager of Lakesmere, stated: "The NV1 is a very simple, hands-free bracket system, which was easy to align and adjust on the job. We have used similar systems before, however we have never installed sandstone cladding. For this reason, we wanted to work with a support bracket that we had confidence in. NVELOPE's NV1 is an excellent product which allowed us to overcome problems on site."
There was limited space on site, which prevented us from being able to lay the cladding down. It also meant that a crane had to be used to transport the cladding up to the roof and down to the basement area. Whilst this was an issue, the ability to fix the NVELOPE brackets quickly and easily helped speed up the installation.
NVELOPE's NV1 flexible point brackets were well suited for this project as they allow for expansion and contraction of the cladding when under strain from various weather conditions, including strong winds. The NV range provides a secure fixing solution for façade materials, including high pressure laminate (HPL), timber, weatherboard, fibre cement, fibre concrete, ceramic, thin stone, aluminium composite material (ACM) and many other metals.
They are available pre-assembled with thermal isolators to help reduce thermal bridging and also prevent a chemical reaction, which could occur between the aluminium bracket and the line in a concrete frame. Stand-off sizes for the vertical range are from 40 – 300mm.
NVELOPE holds extensive stock to ensure orders can always be met and, where necessary, immediate delivery can be provided. All NVELOPE cladding systems can be engineered to project specific requirements, thanks to the expertise of its technical design support service. This provides architects and specifiers freedom, with an almost infinite range of façade appearance and layout options.
Manufactured in the UK and developed using the highest specification alloys, NVELOPE products and systems are ideal for supporting a wide variety of façade materials.
For further information on NVELOPE Rainscreen Systems, call us direct on +44 (0)1707 333 396.