NVELOPE secure Kew Tower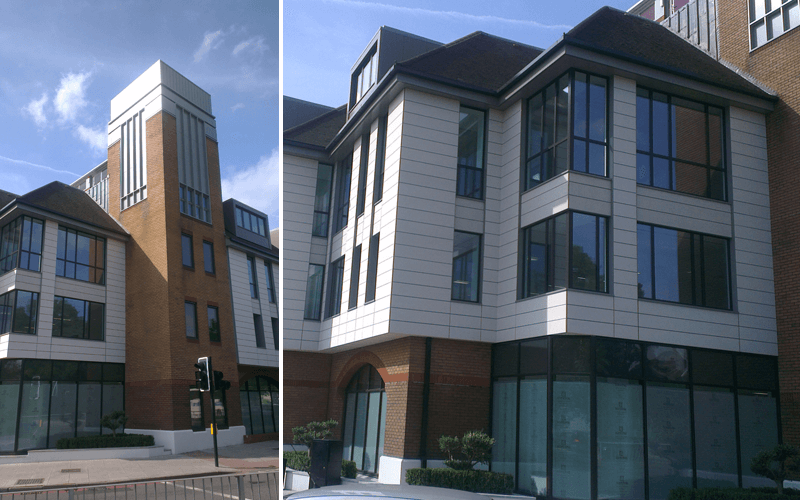 Project: Kew Tower
Location: Richmond
Building envelope contractor: The Carbon Trust, Stanhope PLC and Threadneedle Property Investment Ltd.
Product: NV4
A newly refurbished office building in Richmond is due to receive an excellent BREEAM environmental rating, following a project which includes NVELOPE NV4 support systems being installed behind approximately 600 square metres of aluminium and tectiva cladding.
The £5m project at Kew Tower in Richmond is an initiative of the Low Carbon Workplace, a unique joint venture between: The Carbon Trust, Stanhope PLC and Threadneedle Property Investment Ltd. The existing office building has been extensively refurbished, both inside and out, producing a high quality, low carbon construction. The upper floors of the building were re-clad, delivering an aesthetically appealing, sustainable design. The Kew Tower offices are now cutting leading edge in environmental performance and, as such, anticipate being BREEAM-rated 'Excellent' upon completion of the project.
The NVELOPE NV4 system was installed behind the new cladding by leading building envelope contractor, Paneltec Services, to whom Hale Brown Architects recommended using the NVELOPE project builder. The online checklist, accessed on the NVELOPE website, involves a straightforward, two-step data entry process and results in a comprehensive, project-specific cladding solution.
"The product is versatile and quick and easy to install," attests Neal Clark, of Paneltec Services, "What we were most impressed about, was the project builder. This is a reliable and time-saving resource – making for a very fast turnaround indeed. This type of service is what makes us keen to work with NVELOPE again."
Manufactured from aluminium alloys, NVELOPE's NV4 system is ideally suited to vertical cladding applications. Rainscreen panels are hung from and secured to the horizontal profiles with adjustable hangers. NVELOPE brackets allow further adjustment between the face of the primary support to the outer face of the vertical profile, providing important flexibility in the cladding. When under strain from various weather conditions, including strong winds, the cladding is thus able to expand and contract. The NV4 system is available pre-assembled with thermal isolators as standard to help to prevent a chemical reaction occurring between the aluminium bracket and the line in a concrete frame, as well as to reduce thermal bridging.
NVELOPE maintains extensive stock to ensure that orders can always be met and where necessary, immediate delivery can also be provided. All NVELOPE cladding systems can be engineered to project specific requirements thanks to the expertise of its technical design support service. This provides architects and specifiers freedom with an almost infinite range of façade appearance and layout options.
Manufactured in the UK and developed using the highest specification alloys, all NVELOPE products and systems are BBA certified.
For further information on NVELOPE Rainscreen Systems, call us direct on +44 (0)1707 333 396.