University of East Anglia – Lantern shines with NVELOPE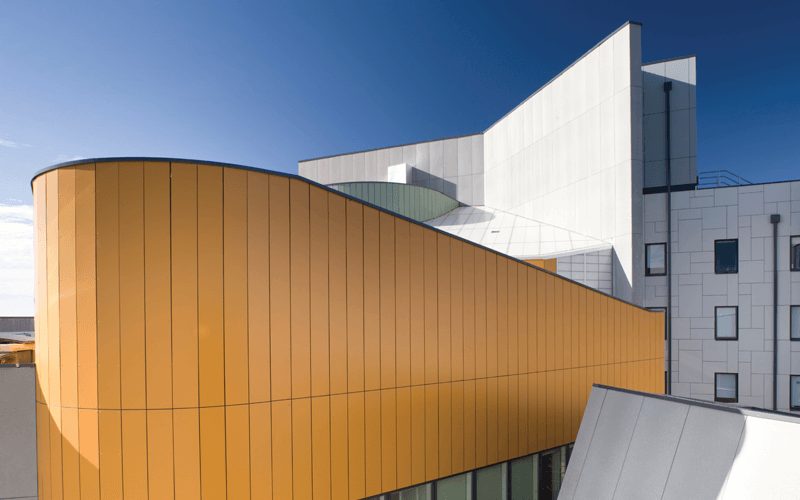 Project: University of East Anglia
Location: Norfolk
Architect: LSI Architects
Product: NV2 (structural adhesive)
When designing a new student accommodation and learning centre for international students at the University of East Anglia (UEA), LSI architects wanted to create a modern structure that would reflect the global character of its users. They created a gracefully curved structure based on a Chinese lantern. A combination of Trespa Meteon HPL and cement based Petrarch cladding panels were selected for their versatility and colour. To provide a seamless fix of the petrarch cladding, NVELOPE's NV2 (structural adhesive) rainscreen cladding system was specified.
This system comprises of:
Sika tack panel adhesive (activators, primer, tape, adhesive)

NV2 cladding support system
NVELOPE brackets in a size range from 90mm to 120mm were provided, allowing a cladding zone from 90mm to 160mm to be accommodated. The supports were easily fixed to the substrate of the structure using pre-drilled holes.
Designed with sustainable principles in mind, the adhesive fix helps limit cold bridging to provide more effective energy saving temperature control to the structure. The NV2 cladding support system is also easily recycled, being aluminium, so can be re-used at the end of its life for 5% of the energy required for its original production.
For further information on NVELOPE Rainscreen Systems, call us direct on +44 (0)1707 333 396.